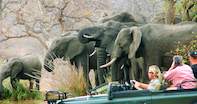 This private nature reserve covers 40 000 hectares within the Greater Kruger Park on its western boundary. With the game roaming freely in this area unhindered by fences, there are excellent opportunities for viewing many species of wildlife including the Big Five - buffalo, elephant, lion, leopard and rhino.
Balule Game Reserve is easily accessible by road and air. The closest Kruger Park Gates are Phalaborwa and Orpen Gates. The reserve can be reached in about 6-7 hours by car from Johannesburg. Daily scheduled flights from Johannesburg, Cape Town and Durban fly to three international airports nearby.
We are able to arrange road transfers to and from the local airports and from Johannesburg to the various lodges in the Balule Game Reserve.
Self-Drive to Balule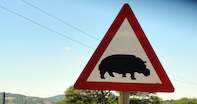 Hiring a vehicle and driving to Balule is the most economical way to get there but keep in mind that the drive is about 6 - 7 hours long. The infrastructure of the roads from Johannesburg are mostly tarmac and are in good condition. The route is also well sign-posted.
To maximise your experience, an ideal self-drive trip to Kruger would be combining a few days exploring the Panorama Route with guided game drives at a safari lodge in a private game reserve like Balule.
Getting to Balule by Air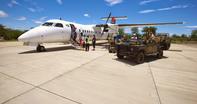 The flight option is slightly more expensive but cuts down the travel time to 2 hours. There are daily scheduled flights from Johannesburg and Cape Town to Hoedspruit. We are able to arrange road transfers to and from the local airport to the various lodges in the Balule Game Reserve.
Flights arrive midday allowing enough time for you to embark on your first afternoon game drive that same day. We have packaged a few of our favourite Balule safari lodges to include flights and road transfers offering you value for money.
We often add complimentary access to a premier lounge in Johannesburg for 2 hours prior to scheduled flight departure. This helps to ease the stress of travelling even more.
Kruger Shuttle from Johannesburg
If you are not keen on self-driving there is a daily Kruger road shuttle from Johannesburg in an air-conditioned vehicle. This is ideal if you are on a strict budget but still, want to experience an authentic Kruger safari. This option is definitely lighter on the wallet but departs at fixed times from Johannesburg.
The journey takes approximately 6 - 7hours and there are 2 stops along the way of about 15 minutes each, allowing you to stretch your legs, have a bathroom break and buy some drinks and snacks.
History of Balule Game Reserve
In the early 1990's a number of landowners in the Balule section of the Greater Kruger Park realised a need to drop fences between their properties. This move would extend the animal gene pool, prevent over grazing and enable the movement of African wildlife over a greater area. It made great ecological sense!The absence of fences became aesthetically pleasing to landowners and the shared wildlife meant that game that had never been seen in a particular area was now present. By the end of the decade, most Balule landowners had joined in the venture. Hunting was curtailed and the wildlife became more relaxed which provided excellent photographic opportunities.
The two reserves on the eastern boundary of Balule Game Reserve are Olifants Game Reserve and Klaserie Game Reserve. The fence between Kruger Park and Klaserie Game Reserve came down first and the Kruger authorities soon came to realise that this was the way to proceed.
The fence on the tar road between Phalaborwa and Hoedspruit became the obvious place to have the western boundary of the Kruger Park.
Once all the fences were correctly fitted with high voltage capacities and the authorities were satisfied that Balule Game Reserve was ready for incorporation, it was just months before the fences were taken down between the Klaserie and Olifants Game Reserves.
Balule was in this way incorporated into the most famous game reserve in the world. An impressive 40 000 hectares were added to the Kruger National Park overnight!