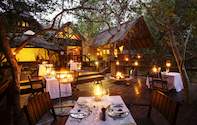 For an intimate getaway from the cares of life, you'll experience all the magnificence of the famed Olifants River and the creatures that inhabit and surround it at the romantic Pondoro Game Lodge.
Situated in the Balule Private Game Reserve
Between activities guest can enjoy deliciously prepared meals
Guests are accommodated in comfortable and spacious chalets and suites
Pondoro Game Lodge is set along the riverbank beside a permanent Hippo pool
See a Creature Comforts Safari Package based on this lodge.
Pondoro Game Lodge is set along the riverbank beside a permanent Hippo pool, providing hours of fascinating game viewing before you've even left camp.
Pondoro Game Lodge accommodation is attractive, comfortable and in air-conditioned suites and chalets, designed by a leading architect nestled amidst the cooling breeze of riverine vegetation, including pristine Jackalberry and Leadwood trees.
Situated in the exclusive Balule Private Game Reserve, this lodge is the perfect setting for unforgettable game viewing. With Hippo and Crocodile sightings a certainty, you will also enjoy encounters with Lion, Leopard and Buffalo along with beloved African game such as Giraffe, Zebra and a wide variety of antelope.
With an eye for nature's intricacies, experienced rangers at this game lodge in South Africa also share their knowledge and understanding of lesser-known creatures such as the Caracal, Honey Badger, and Red Duiker, Sharpe's Grysbok, Bush Pig and the Klipspringer.
With over 450 species of birds identified in the valley of the Olifants, the guests at the lodge in South Africa marvel at some of the most magnificent birding. Between game viewing, bird watching and melting away the cares of the world.