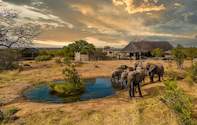 Imagine Africa Luxury Tented Camp in Balule Nature Reserve bordering Kruger Park provides a wildlife safari experience that has been carefully crafted for an unforgettable African adventure.
Why We Love it and You Will Too
View elephants and many other animals at the waterhole on a hot day
Enjoy the breathtaking surrounding flora and a variety of birding
Views of the Drakensberg Mountains and spectacular sunset, perfect for photos
After a busy day, rest in fully furnished luxurious tented accommodation
Enjoy the infinity pool which overlooks the waterhole - just 30m away
Your Balule Safari Experience
At Imagine Africa Luxury Tented Camp you can expect an intimate and unforgettable safari experience in Olifants West Nature Reserve within Balule Nature Reserve.
Surrounded by amazing animals of the wild, Imagine Africa Luxury Tented Camp offers outstanding game viewing. Guests will see elephants quench their thirst by the waterhole close by, while the roaring sound of the lion in the distance amazes guests while relaxing by the infinity pool.
Imagine seeing the legendary Big 5 wildlife (lion, elephant, leopard, rhino, buffalo) - at Imagine Africa this is a reality! Guided game drives with expert guides track wildlife giving you the best chance of seeing all the animals on your bucket list!
Imagine Africa Luxury Tented Camp is an intimate family-owned lodge that offers 6 fully furnished and spacious canvas tents. The spacious elevated tents accommodate 2 people each and have comfortable facilities and a private patio to ensure an unforgettable stay in the African wilderness.
Stay in touch and share their memories by taking advantage of the complimentary high-speed WiFi.